What's this? It's a Nightmare Before Christmas Cuckoo Clock! If you love Tim Burton's The Nightmare Before Christmas stop-motion animated musical film then you will adore this creepy cuckoo clock that features all your favorite characters from this creepy Christmas classic!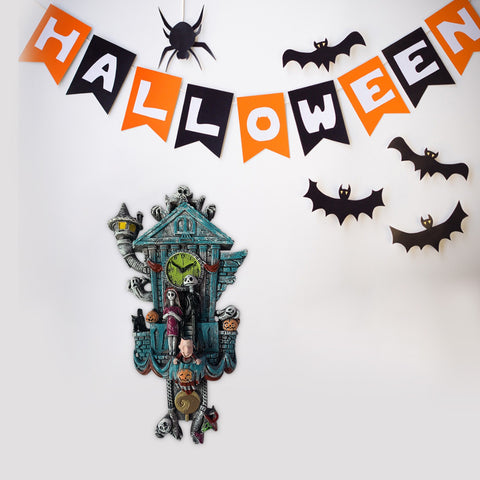 Key Features:
The fully-sculpted clock features Jack Skellington, Sally, Lock, Shock and Barrel, Jack's tower, and the Town Hall.
Clock and characters are hand-cast and hand-painted to capture the film's spooky ambiance and vivid nightmarish colors.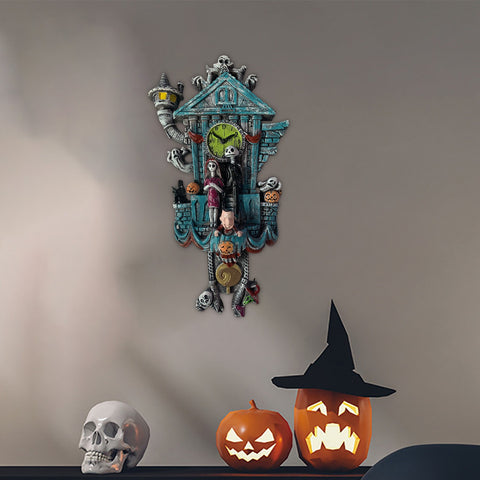 This is a resin product,Makes a great still-life home decoration. nightmare before Christmas clockBoys and girls of every age, wouldn't you like to see something strange? Then make sure you stick around to hear this cuckoo clock mark the hour in true Halloween Town fashion! Rather than simply chime to mark the passing of time, this Nightmare Before Christmas Cuckoo Clock plays the fan-favorite This Is Halloween soundtrack theme whilst Jack's faithful canine companion Zero flies in and out of the arched doors atop the Town Hall; not to be missed!