LIMITED TIME OFFER: BUY NOW Before it returns to original price
✅Delivery time: 7-15days
✅2 years warranty.
✅Handling time>>Ship within 48 hours after payment
✅Returns>>Fast refund, 100% Money Back Guarantee ( Check Refund Policy )
✅90% of Customer buy more than 2 to get a 10%discount
ULTRASONIC DENTAL CLEANER
Are you looking for the perfect tool to get rid of that plaque and stains that haunting your teeth ? Our tartar remover machine will help you get back your shining white smile in just few days, Welcome Pearly Whites Teeth !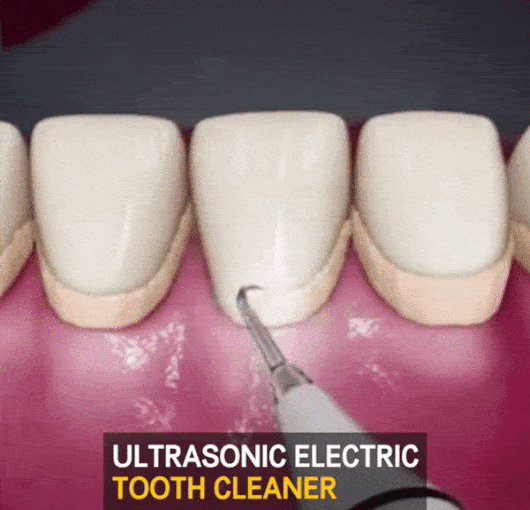 With it's interchangeable heads, you have everything you need for a perfect oral hygiene, free of Tartar and plaque built up around your teeth.
Easy to use in the bathroom this portable teeth cleaner and tartar remover for teeth is lightweight with a beautiful design for ease of use and comfort. Plaque Remover for Teeth helps supplement regular flossing and the use of mouthwash for 24/7 teeth cleaning support helping make those annual visits to the dentist short and less frequent.
 Features
1. EFFECTIVE DENTAL CALCULUS REMOVER: the Ultrasonic Tooth Cleaner With high frequency vibration (26000-31000 beats / min) technology to clean up teeth stains and solve most of the oral problems from even the hardest to reach areas to maintain your teeth and gums healthy, such as dental calculus, tooth bacterial plaque, tartar and stains.


2. THREE REPLACEABLE CLEAN HEADS: The body of this ultrasonic dental cleaner device is made with safe and hygienic food-grade silicone. Three different small metal heads can effectively scan the deep blind area of the teeth - The 90°Needle-Like Cleaning Head allows you to clean teeth more effortlessly and efficiently, the sharp end tip is used to clean between the teeth and closer to the gum line, while the flat end tip is for outer surface cleaning.


3. THREE ADJUSTABLE MODES AND LED LIGHT: the Ultrasonic Tooth Cleaner has an LED lighting that helps you better see dental stains on the surface of your teeth; 3 different modes (soft, normal, strong) are suitable for different gingival sensitivities with just the press of a button.

4. USB RECHARGEABLE & PORTABLE: The dental calculus remover comes with built-in 250mAh Li-battery and powered by USB, easy to charge with any phone adapter and makes the tarter scraper cleaner convenient to recharge anytime. It can also be used continuously for many days with a single charge. Useful for travels without worrying about electricity.

5. WATERPROOF & HEALTH MATERIAL: IP67 waterproof body design, handheld portable size suitable for travel. Food grade silicone material and medical-grade stainless steel for a more comfortable feel and easier cleaning. With the addition of an oral mirror and a dental cleaner, you can enjoy the pleasure of cleaning your teeth at home anytime and anywhere.
How to use the ultrasonic tooth cleaner ?
Specification
Battery Capacity: 250mAh
Working Voltage: 3.7-4.2V
Rated Current: 130mA Max
Charging Method: USB Charging Cable
Waterproof Grade: IPX6
Package included

1* Device Body
1* Needle-Like Cleaning Head

1* Hook-Like Cleaning Head
1* Flat Cleaning Head
1* Dental Mirror
1* Dental Probe
1* DC Charging Cable
1* User Manual